Main content starts here, tab to start navigating
Terra Denver Restaurant Faqs
Welcome to Terra in Denver, a culinary gem nestled in the heart of our bustling city and conveniently located just steps away from the Colorado Convention Center. Terra has earned a reputation as a must-visit destination for food lovers. While Terra offers unique dining experiences for residents and locals alike, we want to dive deeper into what makes it a must-visit destination for food lovers.
So, let's begin our mouthwatering journey!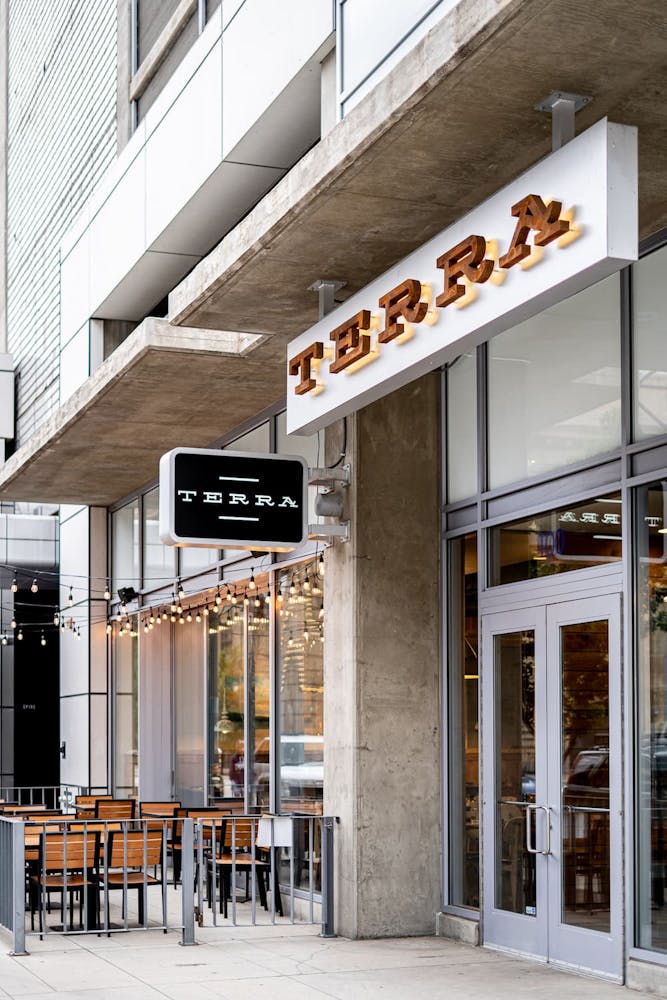 Terra's Location
Terra prides itself on its prime location, within walking distance of the Colorado Convention Center. This proximity offers benefits for convention attendees, who can stop by for a quick meal or a refreshing drink after a seminar or conference. The restaurant is also easily accessible for tourists and locals seeking a unique dining experience.
If you're in search of a fun and cultural experience, you're in luck: Terra is located within close proximity to the Denver Center for Performing Arts (DCPA), which offers a variety of shows, including plays, musicals, ballets, and operas. Before or after your show, stop by Terra for a bite or a drink and make a night of it by exploring the vibrant LoDo neighborhood, filled with popular bars, restaurants, and historical landmarks. There's always something to discover in Colorado.
While here, you can also explore other popular neighborhoods like RiNo, Capitol Hill (Cap Hill), Highlands, and Uptown. Each one offers unique charm and attractions.
Terra's Menu and Cuisine
The menu at Terra is a delightful mix of flavors and dishes that cater to various dietary preferences. From hearty meat dishes to fresh salads, there is something to suit everyone's taste buds.
The signature dishes and chef's specialties are crafted with care and creativity, offering an extraordinary dining experience. From appetizers to desserts, the menu consistently showcases innovation and culinary powers, which stems from the restaurant's commitment to using locally sourced ingredients. Terra ensures fresh and seasonal flavors and supports local farmers and producers.
Dining Experience at Terra
The ambiance at Terra perfectly blends modern sophistication with a comfortable and welcoming atmosphere. The restaurant is well-suited for casual meals with friends or more formal occasions, making it a versatile destination for any dining experience. The friendly and knowledgeable staff are always on hand to provide personalized service, expert recommendations, and insightful advice on the menu.
Terra also offers special events and private dining options for those looking to celebrate a special occasion or host a gathering. Customizable menus and packages make the event planning process smooth and seamless.
Frequently Asked Questions
As a potential visitor to Terra, you may have questions on your mind. Let's address some of the most common inquiries:
— Terra's hours of operation can be found here, or you can contact us directly.
— Terra has no strict dress code, but smart casual attire is generally recommended.
— Reservations are not required but are highly recommended, especially during peak hours and for larger groups.
— For information about our happy hour and special promotions, please inquire with us directly.
Happy Hour is every day (Tuesday - Sunday) from 2 pm-5 pm and features drink specials.
— Our menu includes vegetarian, vegan, dairy-free, and gluten-free options for various dietary needs.
— There is a limited kid's menu available for younger guests.
— Parking can be found in nearby lots and garages, with some street parking available as well.
— Public transportation options, such as buses and light rail, are conveniently found near Terra.
— Terra can accommodate large groups and private events with customizable options.
— Outdoor seating is available but is subject to availability and weather conditions.
Exploring the Surrounding Area
As we mentioned, Terra's location is surrounded by numerous attractions and landmarks. The LoDo district offers exceptional shopping, dining experiences, and historical architecture. RiNo, another nearby neighborhood, is bustling with art galleries, craft breweries, and distilleries, making it an area worth exploring. Additionally, DCPA hosts a range of performing arts shows and events, and the adjacent Union Station serves as a transport hub with stunning architecture, shopping, and dining options. With these diverse attractions and landmarks in close proximity, Terra's location is perfect for those seeking a lively and exciting urban lifestyle.
In Capitol Hill, you can find an array of music venues, unique shops, and boutique stores, while the Highlands offers a mix of outdoor spaces and trendy eateries. Uptown, known for its upscale shopping and dining options, is also a short distance away.
While at the Convention Center, you shouldn't miss out on visiting the iconic Blue Bear Statue. It's a fun photo opportunity symbolizing Denver's creative spirit.